FOR PRODUCT SUPPORT, CALL US ON (07) 3889 7718
FREE SHIPPING FOR ALL ORDERS OVER $59
YOU COULD WIN GIFT CARDS TO THE VALUE OF $300!
PLACE AN ORDER TO ENTER | DRAWN 18 DECEMBER 2023
Is hemp good for the skin?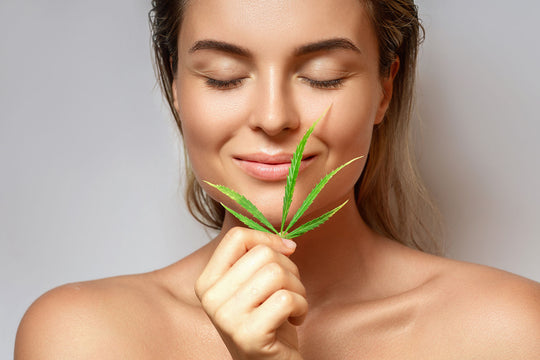 In this post, we're going to take a look at hemp benefits for skin.
To answer the question 'is hemp good for the skin', we'll find out about its hydrating and protective qualities and understand what makes it such a special product.
What is hemp?
Hemp is a variety of the Cannabis sativa plant that is cultivated for the oil made from its seeds and its fibre.
It's a different variety from the cannabis that is associated with getting high, which is due to its THC (tetrahydrocannabinol) content.
Hemp contains only the minutest amounts of THC, so there is no danger of becoming intoxicated from using its products.
Hemp skincare benefits
You've probably noticed that there are lots of hemp skincare products out there…but why are they so good for the skin?
Moisturises without clogging
For a start, hemp moisturises without clogging pores, making it suitable for all types of skin.
This is especially welcome news for anyone who suffers from oiliness and has difficulty finding a moisturiser that's not too heavy for their skin.
Soothes inflammation
Hemp contains an omega-6 fatty acid called gamma-linolenic acid (GLA), which has powerful anti-inflammatory properties and also stimulates new cell production and skin growth.
This means that it can soothe inflamed or irritated skin while feeding and moisturising your skin at the same time.
This powerful combination is great for uncomfortable conditions like eczema, psoriasis and acne.
Reduces the signs of ageing
In addition to these fantastic benefits, hemp seed oil products can even combat the signs of ageing.
The linoleic acid and oleic acids in hemp seed oil are an essential part of keeping your skin healthy, with the effect of reducing fine lines and preventing the signs of ageing skin.
How to use hemp seed oil skincare products
So now that the answer to the question 'is hemp good for the skin' is yes, take a look at how to use products containing this powerful ingredient.
You can apply hemp seed oil directly to your skin to soothe any dry or irritated areas, massaging it in gently.
It's also good for targeting acne. In this case, apply hemp seed oil to clean skin, leave for a couple of minutes, and then rinse away.
Hemp also works beautifully as an ingredient in various skincare products. Used in an exfoliating bar, hemp seeds buff away dead, dull skin to leave it soft, smooth and fragrant.
Hemp seed oil can be combined with nourishing chia seed oil to create a rich and hydrating serum. Use at night to give your skin a moisture-rich boost while you sleep.
Did you know that hemp also works wonders for your hair and scalp? Use hemp shampoo and conditioner to moisturise your hair without any feeling of oiliness and to nourish the skin of your scalp.
And don't forget that you can tap into hemp benefits by taking it orally as a supplement too!
Know more about our hemp products
Want to learn more about hemp seed and how it can benefit your skin and wellbeing?
Check out our full range of hemp products designed to complement your lifestyle in the most natural way possible!