FOR PRODUCT SUPPORT, CALL US ON (07) 3889 7718
FREE SHIPPING FOR ALL ORDERS OVER $59
YOU COULD WIN GIFT CARDS TO THE VALUE OF $300!
PLACE AN ORDER TO ENTER | DRAWN 18 DECEMBER 2023
Chocolate and Hemp Protein Balls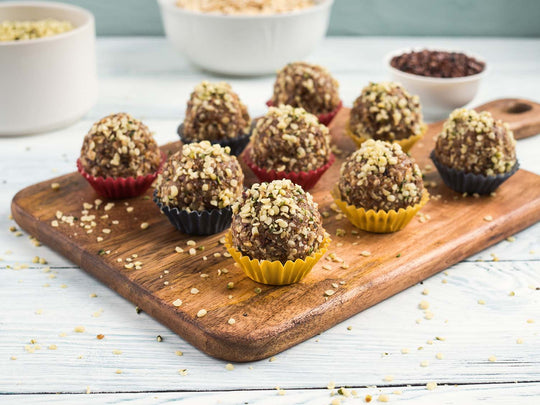 It's always good to have some homemade protein balls ready to eat. They're perfect for a convenient yet healthy treat, providing you with a quick energy boost. These balls are also good for that post-workout snack with the protein content helping to aid muscle recovery.
Why we love them
One of the first things to love about these chocolate and hemp protein balls is that they're super convenient. It doesn't take much effort to create a batch, and you can store them in the fridge so they're ready when you need that energy boost.
And of course, an advantage these homemade balls have over ready-made ones is that you know exactly what goes into them — all-natural and wholesome ingredients. Unlike many shop-bought brands, there's no added sugar with the sweetness coming naturally from the dates and coconut.
The sweetness of these ingredients is offset by the slightly bitter hit of the cacao and dark chocolate and the salt — a delicious combination!
As well as contributing to the exceptional flavour of these balls, raw cacao brings many health benefits of its own. It has anti-inflammatory properties and is high in minerals, including iron and calcium.
The inclusion of Medjool dates in this recipe is genius. Their sticky texture makes them perfect to bind the balls' ingredients together, while you can't beat their natural sweetness and rich, caramel flavour. They're also packed with fibre, vitamins and minerals, making them a nutritious addition to this recipe.
Hemp seeds and hemp oil are really the icing on the cake. They're rich in fatty acids, protein, all the essential amino acids, vitamin E and minerals. Since they're such a rich source of protein, they will not only give you an energy boost and make you feel full for longer, helping you to stay away from snacking in between meals. Know that they are also easy to digest, thanks to their generous fibre content.
So quick and easy to make with no cooking involved, these protein balls make a convenient and tasty snack. Have fun creating a batch and enjoying whenever you need an energy boost.
Serves
This recipe makes 12 protein balls.
Ready in
30 minutes
Ingredients
6 tbsp hemp seeds and extra for topping
3 tbsp raw cacao
2 tbsp desiccated coconut and extra for topping
1 cup Medjool dates
1 tbsp hemp oil
1 scoop vanilla protein powder
1 tbsp water
3 tbsp chopped dark chocolate
Sea salt for topping
Method
1. Put the Medjool dates in a food processor and blitz them until they form one single lump (you may need to soften them first by soaking in warm water).
2. Add the remaining ingredients and blend until they form a smooth paste with the dates.
3. Line a baking sheet with baking paper.
4. Mix the extra coconut and hemp seeds in a bowl.
5. Dampen your hands to prevent sticking, then mould the paste/dough into 12 balls of similar size. One by one, roll them in the hemp seed and coconut topping. Finish by sprinkling them with sea salt.
6. Put them in the freezer until they are firm. Then store them in the fridge until you are ready to eat them.
7. These delicious protein balls will keep in the fridge for a week and in the freezer for up to 8 weeks.