FOR PRODUCT SUPPORT, CALL US ON (07) 3889 7718
FREE SHIPPING FOR ALL ORDERS OVER $59
YOU COULD WIN GIFT CARDS TO THE VALUE OF $300!
PLACE AN ORDER TO ENTER | DRAWN 18 DECEMBER 2023
Hemp Pesto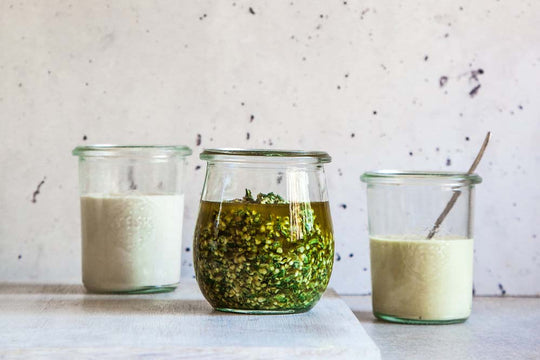 Tasty pesto sauce packed with protein and antioxidants.

WHY WE LOVE IT.

Pesto sauce is delicious, quick and simple to make, and our recipe can easily be tweaked to make plant-based. The addition of hemp packs protein into the sauce, while garlic and lemon juice are great antioxidants. Perfect for salads and pasta all year round.
INGREDIENTS:
2 bunches fresh basil
¼ cup olive oil (increase amount, if needed, to desired consistency)
½ cup lemon juice (increase amount, if needed, to desired consistency and taste)
½ cup raw macadamia nuts
4 tbsp EM hemp seeds
½ cup pecorino or parmesan cheese
3 cloves garlic, pressed with the back of a knife to remove skin and release flavour
Salt and pepper, to taste
METHOD:
Add raw macadamias to food processor and pulse for a few seconds until finely chopped. Your macadamias should resemble a paste but keep textural.
Scrape chopped macadamias into an airtight container where your finished pesto mix will be stored.
Add the remaining ingredients into your food processor and blend until you reach your desired consistency.
Add to a container and stir to combine with macadamia mix.
TIPS:
This pesto can last up to a week if refrigerated in an airtight container and topped with olive oil after each use (prevents herbs from turning brown).
To make your hemp pesto plant-based, replace cheese with 3 tablespoons of nutritional yeast or simply leave out.