FOR PRODUCT SUPPORT, CALL US ON (07) 3889 7718
FREE SHIPPING FOR ALL ORDERS OVER $59
YOU COULD WIN GIFT CARDS TO THE VALUE OF $300!
PLACE AN ORDER TO ENTER | DRAWN 18 DECEMBER 2023
Strawberry Hemp Milkshake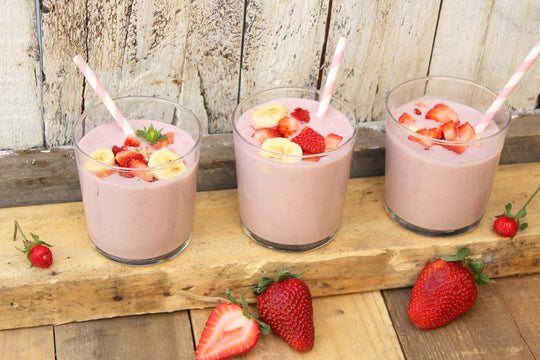 A healthier take on the classic strawberries and cream combo…
Note: This makes one large shake.

WHY WE LOVE IT.
Sweet, creamy and delicious—our Strawberry Hemp Milkshake is the perfect treat. Strawberries are a great source of vitamin C, and also contain manganese, potassium and folate. Combine them with coconut water and protein from our hemp seeds for a hydrating energy boost. Perfect for dessert or a post-gym reward. It's quick and easy to prepare—simply multiply ingredients to create additional shakes.

INGREDIENTS:
Large handful of frozen organic strawberries
1 cup of coconut water or water (½ cup for a thicker consistency, if preferred)
1 large scoop of vanilla ice cream (our personal favourite is the Pana chocolate vanilla bean)
1-2 tablespoons of our Hemp Seeds
METHOD:
Place all ingredients into a high speed blender and pulse until smooth.
Pour into cup.
Enjoy!