FOR PRODUCT SUPPORT, CALL US ON (07) 3889 7718
FREE SHIPPING FOR ALL ORDERS OVER $59
YOU COULD WIN GIFT CARDS TO THE VALUE OF $300!
PLACE AN ORDER TO ENTER | DRAWN 18 DECEMBER 2023
Chocolate Chip and Hemp Seed Banana Muffins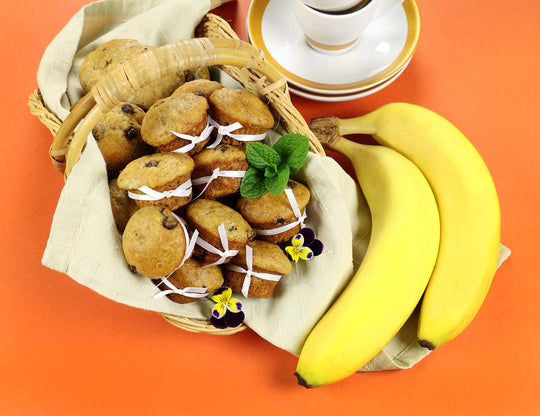 Banana muffins are a classic comfort food. But these muffins have a twist: they're made with hemp seeds, which add protein and healthy omega-3 fatty acids to the mix. Plus, the chocolate chips provide a bit of indulgence. These muffins make a great breakfast or snack any time of day.
Ingredients:
5 tablespoons (70g) of unsalted butter, melted and cooled slightly
1 1/2 cups (195g) all-purpose flour
1/2 cup (95g) packed brown sugar
1 teaspoon baking powder
1 teaspoon baking soda
1/4 teaspoon salt
3 ripe medium bananas, mashed with a fork, about 1 1/4 cups mashed
1 large egg
1/2 teaspoon vanilla extract
3/4 cup (130g) mini or regular-sized chocolate
1/2 cup hemp seeds
Ingredients Overview:
Bananas
Bananas are a great ingredient for muffins because they are moist and fluffy. They also add sweetness and flavour to the muffins.
Bananas are a good source of dietary potassium, vitamin C, dietary fibre and vitamin B6. They also contain other essential nutrients such as magnesium and manganese. Bananas contain starch which is a complex carbohydrate and when consumed in large quantities, it can provide you with energy. Bananas are also a good source of antioxidants.
Eggs
The egg is a perfect ingredient in these muffins because it helps to bind the ingredients together and makes them fluffy and moist. The egg also adds flavour and sweetness to the muffins.
Did you know that eggs are one of the most nutrient-rich foods on the planet? In addition to being a great source of protein, eggs also contain essential vitamins and minerals like vitamins A, B12, and D, as well as omega-3 fatty acids.
Eggs also have a high satiety value, meaning they help keep you feeling full after eating them. This is why eggs are such a popular breakfast food.
Hemp Seeds
Hemp seeds are a great addition to these muffins because they add protein and healthy omega-3 fatty acids. Hemp seeds are also a good source of fibre, minerals, and vitamins. They have a nutty flavour that goes well with the chocolate chips in these muffins. 
Adding hemp seeds to your diet can help improve your overall health. Hemp seeds are a good source of protein and essential amino acids, which are the building blocks of muscle tissue. They also contain omega-3 fatty acids, which have been shown to reduce inflammation and improve heart health.
Adding hemp seeds to your diet is an easy way to get more protein and essential nutrients. They can be added to smoothies, salads, and baked goods like these muffins.
Instructions
Preheat oven to 180C. Line a muffin tin with paper liners or grease with butter. This recipe makes 12 regular-sized muffins.
In a large bowl, whisk together the flour, brown sugar, baking powder, baking soda and salt.
In another bowl, mash the bananas with a fork until they are smooth. Add the melted butter, egg and vanilla extract and mix until well combined.
Pour the wet ingredients into the dry ingredients and mix until just combined. Be careful not to overmix.
Fold in the chocolate chips and hemp seeds.
Divide the batter evenly among the prepared muffin cups and bake for 20-30 minutes or until a toothpick inserted into the centre comes out clean.
Let the muffins cool in the tin for a few minutes before transferring them to a wire rack to cool completely. Enjoy!
The recipe is simple and easy to follow. The muffins are fluffy and moist, and they are a good source of protein and fibre. The chocolate chips add a delicious flavour and sweetness, while the hemp seeds provide many health benefits. Banana muffins are a great way to start your day or have them as a snack. Adding hemp seeds gives them an extra boost of protein and healthy fats.
Recipe courtesy of Ria Boustead from Ria's Hippy Health