FOR PRODUCT SUPPORT, CALL US ON (07) 3889 7718
FREE SHIPPING FOR ALL ORDERS OVER $59
YOU COULD WIN GIFT CARDS TO THE VALUE OF $300!
PLACE AN ORDER TO ENTER | DRAWN 18 DECEMBER 2023
Creamy Cauliflower Hemp Alfredo Sauce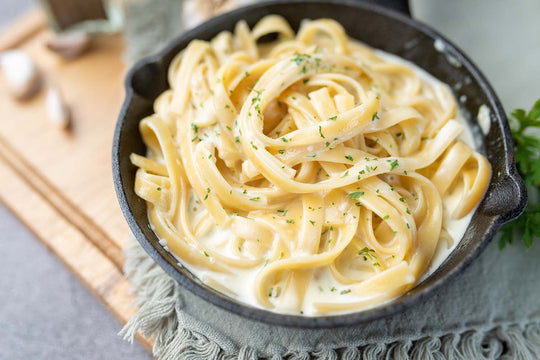 If you're looking for healthy and wholesome foods to cook at home, this hemp seed recipe is filling, packed with flavour and easy to make. 
Why we love it
Rich, delicious and creamy, cauliflower hemp alfredo sauce will easily make the cut for rotation on pasta night. This sauce is decadent while being surprisingly healthy, so you can eat it guilt-free. It's an excellent way to make your pasta dish favourites healthier and more nutritious without skimping on the taste, and you can even eat it as a veggie dip or pour it over pasta.
Ingredients
25ml olive oil
15g minced garlic (roughly 3 to 4 cloves)
625g chopped cauliflower florets (roughly a medium-sized head)
350ml vegetable broth
20g hulled hemp seeds
20ml lemon juice (roughly 2 medium-sized lemons)
1 teaspoon of salt
Pepper to taste
35g nutritional yeast
9g onion powder
Directions:
Once you have all of your ingredients measured and weighed out, it's time to create your healthy hemp seed alfredo sauce. To start, get a larger pot and warm your olive oil using medium heat. When it's warm, you'll add the garlic and cook it until it's fragrant roughly 1 to 2 minutes.
Next, add your chopped cauliflower to your pot and stir it to combine it. Pour in your vegetable broth and bring it all to a rapid boil. Reduce the temperature to a slow boil, cover the pot, and allow it to cook for 5 to 10 minutes. You want the cauliflower to get tender enough that you can easily mash it with a spoon. When it hits this point, you'll remove the pot from the heat and set it aside.
You'll need a blender for the next step, preferably one that has higher speed settings. To your blender bowl, you'll add your hemp seeds, lemon juice, pepper, salt, onion powder and yeast. Next, carefully transfer your broth and cauliflower from the pot to the blender. Secure the lid and blend everything on high until it's creamy and smooth. Give it a taste to see if you prefer to add more onion powder, garlic or salt. If so, season to taste.
Transfer your sauce back into the pot and simmer it over low heat, stirring occasionally. You can serve it over eight ounces of whole-grain fettuccine noodles or with one large roasted squash. If you plan on putting it over pasta, you want to add it cooked with 30ml of pasta water from the pot. The starches that were in the pasta and transferred to the water will make the sauce even creamier. For the best results, serve it warm.
Notes:
Make sure you don't add more cauliflower than the recipe calls for or it'll dilute the sauce's flavour. You can add seasonings to taste though.
This sauce is great served with sautéed sliced mushrooms, peas and whole-grain fettuccine. For a grain-free option, serve it with one large roasted squash.