FOR PRODUCT SUPPORT, CALL US ON (07) 3889 7718
FREE SHIPPING FOR ALL ORDERS OVER $59
YOU COULD WIN GIFT CARDS TO THE VALUE OF $300!
PLACE AN ORDER TO ENTER | DRAWN 18 DECEMBER 2023
Hemp Seed Granola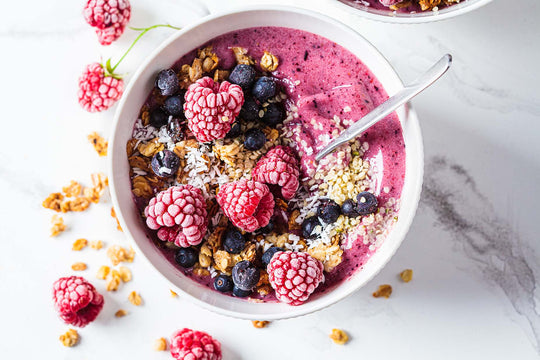 Start your day the right way with this hemp seed granola recipe. It's packed with healthy and nutritious ingredients — including hemp seeds — and will give you the slow-release energy you need to make the most of your day.
Why we love it
Where shall we start with why we love this homemade hemp seed granola recipe? Is it the overall crunchy texture and delicious fusion of flavours? Or could it be the super powerful nutritious hit you get with every serving? Let's take a closer look at what's involved!
The nuts in this recipe — walnuts, almonds and pecans — offer a whole host of nutritional benefits, including minerals, plant protein, fibre and healthy fats. Almonds are especially full of vitamin E, while walnuts are packed full of copper (essential for red blood cell formation and your immune function) and pecans are a great source of manganese (important for bone health).
We've included one cup of Hemp Shack hemp seeds in this recipe to give it a supercharge of goodness. That's because they contain essential fatty acids and are high in protein, vitamin E and a range of minerals including calcium, iron and zinc.
Did you know they are also high in the amino acid arginine, which has been linked to lower blood pressure and a reduced risk of heart disease?
They are also great for digestion, containing both soluble and non-soluble fibre to keep your gut healthy.
Combine these powerful health benefits with the delicious flavours of vanilla, coconut and cinnamon, and you have a breakfast made in heaven!
You can enjoy a bowl of our healthy hemp-inspired granola with milk or a dairy substitute such as almond or soya milk, natural yoghurt or drizzled with honey. What are you waiting for? Let's get baking.
Serves
You'll get 20 delicious servings out of this recipe.
Ready in
1 hour 15 minutes
Ingredients
1 cup Hemp Shack hemp seeds
1 cup walnuts
1 cup desiccated coconut
3/4 cup almonds
1/3 cup melted coconut oil
½ cup pumpkin seeds
½ cup pecans
A sprinkling of chia seeds
1 tsp vanilla essence
2 tsp cinnamon
½ cup maple syrup
½ cup sultanas
Sea salt
Method
1. Preheat your oven to 120˚C.
2. Put the walnuts, almonds, pumpkin seeds and pecans in a food processor and blitz them into smaller pieces. Don't blitz them too much so you retain the chunky feel of this granola.
3. Now put the mix of seeds and nuts in a large mixing bowl and add the rest of the ingredients apart from the chia seeds and sultanas. Stir the ingredients then spread them onto a large baking sheet lined with baking paper.
4. Bake for 35 minutes, then remove from the oven and stir in the sultanas. Return the granola to the oven for a further 25 minutes until it's golden brown.
5. Allow the granola to cool. You'll notice that it gets crunchier as it cools down.
6. Transfer to an airtight container and store in a cool, dry place. Sprinkle chia seeds over the top of your granola before each serving for an extra nutritious boost.