FOR PRODUCT SUPPORT, CALL US ON (07) 3889 7718
FREE SHIPPING FOR ALL ORDERS OVER $59
YOU COULD WIN GIFT CARDS TO THE VALUE OF $300!
PLACE AN ORDER TO ENTER | DRAWN 18 DECEMBER 2023
Vego Pizza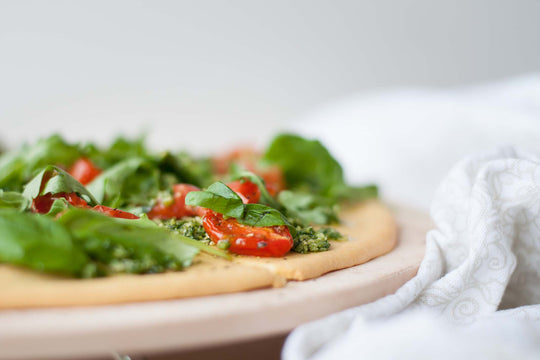 The fresh, doughy scent of home-made pizza is even better when you know it's great for you.

Note: this recipe is for the pizza topping only—you'll need to make or purchase a pizza base. We recommend using a sourdough base for best results. Our recipe makes enough topping for 1 pizza (multiply ingredients if making more).

WHY WE LOVE IT.
Our vegetarian pizza is packed with flavour and incredibly moreish, yet also full of essential vitamins, minerals, antioxidants and protein. Pick your base and then get hands-on in the kitchen!

INGREDIENTS:
1 red onion, peeled and cut into chunks
1 zucchini, shaved thinly (vertically)
6 cherry tomatoes cut into quarters
A handful of green olives cut into quarters
Hemp pesto (see recipe here)
Salt and pepper, to taste

METHOD:
Saute red onion using your preferred oil—we like using ghee or coconut oil.
While the onion is sauteing, start on your pizza topping. Layer ingredients on pizza base starting with hemp pesto. Spoon the pesto mix onto your base and spread out to edges.
Next, layer shaved zucchini, tomatoes and olives. Finish with sauteed onion.
Add salt and pepper to taste.
Bake until crispy on the outside and slightly golden on top.
Add goats or cashew cheese, and/or small spoonfuls of extra pesto on top of cooked pizza (optional).